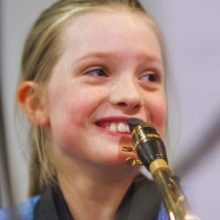 | | |
| --- | --- |
| Date: | Saturday 12 October 2019 |
| Time: | 1.30pm |
| Price: | £5 adults, £3 children - £4 adults, £2 children for LA3/LA4 postcodes (20 avail) |
| Venue: | More Music 13-17 Devonshire Road Morecambe LA3 1QT |
| Tickets: | Book now |
Cinclus Cinclus is a critically acclaimed jazz concert for children created and performed by musicians from the UK and Norway.
The children have the rare chance to interact and engage with an improvised performance, while at the same time experiencing precomposed tunes, riffs and grooves by world class musicians.
"This was a truly engaging musical experience for primary aged children." Steph Edwards, teacher at Christ Church Primary School, Lancaster
"Cinclus Cinclus is one of the most interactive children's concerts I have ever seen" Maja Skarding, Ballade/Norway
Co produced by More Music, Lancaster Jazz festival. Funded by Arts Council England, Norsk jazzforum.
On the day from 10am – 12pm Terje Insungset, one of Europe's most accomplished and innovative percussionists, will lead a workshop that's ideal for musicians, music teachers, early years educators.
£5 adults | £3 children
£4 adults | £2  children for LA3/LA4 postcodes
(20 available)
Click HERE find out more and book your place.
Book now