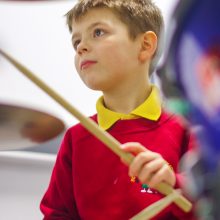 | | |
| --- | --- |
| Date: | Tuesday 22 February 2022 |
| Time: | and Thursday 24 February 4pm - 7pm |
| Price: | FREE |
| Venue: | St Bede's Catholic High School and LSA High School |
Does your child love music? Have they always wanted to learn an instrument, maybe they already play one, or they might be an aspiring singer.
We invite children and young people and their parents/carers to come and find out more about the lessons and groups on offer at the Lytham St Anne's Music Centre, based at St Bede's Catholic High School on Tuesdays and LSA High School on Thursdays, with Lytham Youth Choir  meeting at St Bede's on a Thursday.
Children and young people (ages 6 – 18) can come along and join one or more of our free workshops. Alternatively you can just pop in to meet our friendly team and find out more about what's on offer.
Tuesday 22nd February – St Bede's
4pm – 4.30pm – Band
This is a session for anyone already learning an instrument. Whether it's a violin, tuba, ukulele, clarinet, or anything else, bring it along and make some music. All levels of experience welcome and you don't need to be able to read music to take part.
 5:00pm – 5:30pm – Ukulele Club
All ability levels welcome at this super fun session – bring your ukulele or you can borrow one of ours.
Thursday 24th February – LSA
3.45pm – 4.30pm – Brass
For brass players of all levels of experience
4pm – 4.30pm – Rock Group
Calling all guitarists, drummers, keyboards players, singers and bassists – come and learn some new skills and play in a band!
4.30pm – 5pm – Orchestra
For intermediate and more advanced players (around grade 1 and up) of brass, woodwind, strings and percussion instruments to play together in a small orchestra.
5pm – 5.45pm – Drumming and Street Band
Come and join in a carnival inspired session with drums, brass and woodwind. We have drums available and you can join in with the drumming with no previous musical experience. If you play a brass or woodwind instrument, bring it along and join our horn section.
5.30pm – 6pm – String Group
For bowed string players
Thursday 24th February – St Bede's
4pm – 4.45pm – Lytham Youth Choir
For all young singers from the Lytham and St Anne's area.
All these sessions are designed as one off, fun tasters designed for our open day and some already run as regular groups at the centres. You'll  be able to find out more about our regular groups and what tuition is available at the centre. We also want to hear from you about what groups you would like to see.
Parents are welcome to stay on site or can drop off and pick up children after the workshop. Our Music Centre team are all Lancashire Music Service teachers, fully DBS checked and work regularly in schools
Music Centre subscription is £75 per year (payable termly) and students can attend as many groups as they like.
Instrumental and singing tuition is £7.50 per lesson for a group lessons and from £12.50 per lesson for individual tuition.
Help with costs is available for families on a low income – more information is available from the Head of Centre or email cath.sewell@lancashire.gov.uk