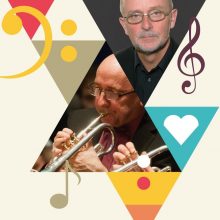 | | |
| --- | --- |
| Date: | Sunday 16 January 2022 |
| Time: | 10am - 4pm |
| Price: | Participants of Lancashire Music Hub, your students are entitled to a FREE place on this course. |
| Venue: | Victoria Hall, Bolton |
| Tickets: | Book now |
Player Development with Paul Cosh and Roger Webster
In these sessions, Paul Cosh focuses on the essentials of brass playing, exploring practical exercises to improve individual playing standards and thus contributing to overall improvements in bands' performances.
Dr Roger Webster's attention is drawn to the mental and physiological aspects of efficient practice and performance methods, exploring focus performance 'anxiety' and motivation. While both sessions will deliver a consistent message that focussing on improving the quality of individual players can drastically affect the quality of your band overall.
These sessions are suitable for players of any age and ability.
Participants of Lancashire Music Hub, your students are entitled to a FREE place on this course. This includes a light lunch and refreshments. Those wishing to attend the course for free should email events@bbe.org.uk to register instead of going through the website.
For more information on the Brass Foundations Engagement Day on Saturday 15th January – please visit HERE
This is part of Brass Bands England's education weekend. This weekend will be facilitated by leading brass education specialists Helen Minshall, Sheila Allen, Dr Roger Webster and Paul Cosh, and as this weekend is in partnership with Lancashire Music Hub.
Book now