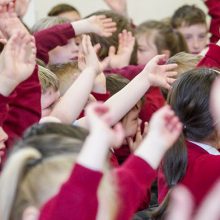 | | |
| --- | --- |
| Date: | Friday 10 November 2017 |
| Time: | 10am - 4pm |
| Price: | £30 |
| Venue: | HOME Manchester, 2 Tony Wilson Place Manchester M15 4FN |
| Tickets: | Book now |
A conference for individuals and organisations delivering music activity with young people in challenging circumstances.
Organisation leaders, teachers, project managers, music leaders and youth and community workers from across the North West are invited to join the conference at HOME in Manchester for a day of conversation and inspiration.
The conference will include live music, presentations, discussion groups and practical ideas with themes including scaling up musical inclusion, looking at quality in delivery, youth leadership and using technology effectively.
Presenters include music education research experts Ben Sandbrook and Phil Mullen, Pete Moser (More Music) and Charlie Morrison (Brighter Sound) representing two leading organisations working in this area, practitioners Simon Glenister, Rachel Parsons, Ashley Murphy and Lucy Wallace who bring a wealth of experience working with young people in challenging circumstances, and young people from projects in Morecambe and Manchester.
The conference is organised by the Reaching Out Network, a group of organisations from across the North West delivering music activities with children and young people in challenging circumstances. These circumstances could be economic difficulties, behavioural issues, life conditions (such as a disability or health issue) or life circumstances (such as rural isolation, young carers or refugees).
Book now