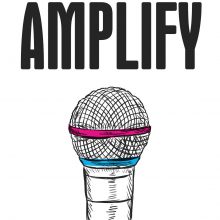 Are you a young creative person? Are you interested in music and have something to say about musical opportunities in Lancashire?
The Amplify team have been investigating musical opportunities in Lancashire and their recent survey of over 400 young people has revealed some interesting results about students' experiences. We are now offering a commission to 4 young creatives to take this to the next level, creating dynamic and engaging content (such as a film, podcast, animation, vlog) which explore the survey results further and share them more widely.
We're looking for four content creators aged 16 – 21 who live in, or go to school/college in Lancashire. You should have experience of creating your own digital content, but you don't have to be an expert. You'll get a bursary of £500 plus support, including workshops and mentoring.
Amplify is Lancashire Music Education Hub's Youth Voice programme which ensures young people have a voice and can influence change at strategic level in our organisation. Amplify is delivered in partnership with Blaze Arts.
For more details and to apply: https://blazearts.co.uk/blog/amplify-is-looking-for-content-creators/ 
Deadline: 5pm on Thursday 17th December