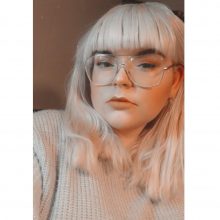 This week, we're introducing our final young content creators who are taking forward the work of our youth voice programme, Amplify. Earlier in the year, four musically-minded young people were commissioned to explore four key areas of music education in Lancashire which were highlighted through a survey.
My name is Caitlin White, 21 years old and I'm from Preston studying Film and Media Studies at UCLAN. My musical background started at GCSE level but I've always had an interest in music, particularly in the technical and management side of the industry. Applying for university, I decided to go into film and media as it enabled me to have a different perspective which has allowed me to be creative in how I approach music and find my place within the industry.

I applied to be one of the Amplify Content Creators as I found the concept of this project to be extremely interesting and knew I wanted to be a part of it, especially as my musical background stems from the media side of things and I could bring a different approach.

My focus area is IRL vs URL (In Real Life vs Online) within Music Education – I was particularly interested in this topic as it is extremely relevant to what is happening right now with the pandemic and all schools having to adapt to online learning. It's also an area in which I can not only bring a lot of my own personal experiences, but also contacts who can give me a better insight into my focus area.

My plan is to produce a virtual exhibition which will explore several avenues such as education in classrooms, out of school and self taught music education. I hope to gather more information about music education and how people are able to access different opportunities in person but now also online, and how the sudden change to virtual learning has affected people's lives. I also hope that the exhibition will spark a debate within this area and start a conversation on what we can all do to help improve the way that music education is delivered. From a personal point of view, I'm also looking forward to meeting new contacts which may help my future career in the music industry.

The impact of this project will be to hopefully raise more awareness of the need for music education and how large the music industry truly is in terms of possible career paths, with many jobs able to be done online. In my experience, Lancashire's music scene is quite self-contained within the area so I hope this project helps develop new opportunities for young musicians to make music on their own terms, and supports those pursuing musical careers to have opportunities to reach a larger audience in safe, creative ways.
Amplify aims to ensure young people's voices are represented at a strategic level within the Music Hub. If you are a young person aged between 14 and 21 interested in getting involved with the project, please email Hannah@blazearts.co.uk.