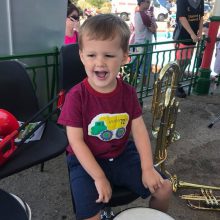 "Brass at the Seaside" returns to St Anne's on Saturday 13th and Sunday 14th July 2019.
This will be the second year of the festival, which brings together bands from all over the North West, to perform on the famous Pier Bandstand on the sea front.
This year the event co-insides with Lytham Festival so all the more reasons to come along and enjoy the family friendly entertainment! Our ensemble bands HONK, LYBB, LYJO and LYCB are all in the brass line up for the festival!
Saturday 13th July
10am:            Clifton Primary School Samba Band
11am:             "Come and try a brass instrument" workshop
12pm:            Continental Brass (TBC)
1pm:              Coppull and Standish Band
2pm:               Freckleton Youth Band
3pm:              St Helens Youth Brass Band
4pm:               Lancashire Youth Brass Band
7.30pm:         Lancashire Youth Brass Band & St Helens Youth Brass Band
Sunday 14th July
10am:             HONK! Lancashire Youth Street Band
11am:              Over Wyre Brass
12pm:             Thornton Cleveleys Band
1pm:               Astley Unlimited Band
2pm:                Kearsley Youth Brass Band
3pm:                Astley Youth Band
4pm:               Lancashire Youth Concert Band
5pm:              Lancashire Youth Jazz Orchestra
7pm:               Lancashire Youth Concert Band