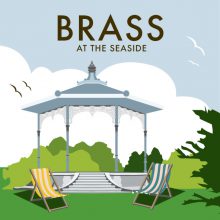 Bands and ensembles are invited to take part in our 2nd Annual 'Brass at the Seaside' Festival 2019!
The weekend long event, which was a great success last year with 14 bands taking part, is set to be even bigger this year! It will take place on Saturday 13th and Sunday 14th July 2019 on The Pier Bandstand, Lytham St Anne's, with bands playing non stop from 11am – 5pm on each day.
Each band will perform an hour's slot. Adult bands, youth bands and school bands are all welcome.
Last years festival was formally opened by the Mayor who had commented '…I'm so pleased to see so many young people involved in playing music'.
The festival will also see the return of a series of fun and family friendly workshops which gives families and audience members the opportunity to play a musical instrument and find out more about the bands playing during the festival.
Festival Organiser Helen Minshall, Music Director of Lancashire Youth Brass Band and one of the tutors of HONK! Lancashire Youth Street Band said:
"This years festival is set to be a brilliant show of musical talent in brass music playing. It is amazing to see all the bands come together to perform in the open air, its a great festival for any number and style of brass band to be involved in."
To register your band in this years festival or for more information please email the Festival  Co-Ordinator Helen Minshall via email  helen.minshall@lancashire.gov.uk