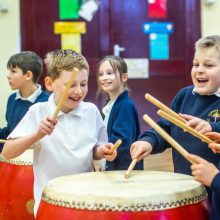 More Music provide Chinese music and culture workshops to schools across the region, they draw from their ever-strengthening relationship with the Chinese community in Morecambe and their development work in China – and they'd love to bring it to your school!
The typical format of the schools session is an assembly performance followed by several hour-long workshops throughout the day, leading to a larger group performance later. They are ideal for all Key Stages, all abilities, groups of up to 30!
More Music have a fantastic collection of authentic Chinese instruments and the expertise to show children and young people how to play them.  Your pupils or participants will learn about music from a different culture, finding out how it is made and about the country it comes from.
The sessions are ideal for around Chinese New Year (which usually falls in late January-early February) however you can book them to take place whenever you choose.
Below are pictures from a recent session ran in a local primary school: