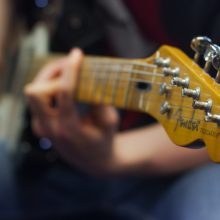 Saturday 7th October 10am – 4pm at Ripley St Thomas C of E Academy, Lancaster LA1 4RS
Are you interested in jazz and improvisation? All young musicians are welcome whether you play classical, folk, rock, jazz or electronic music and on any instrument including voice.
This workshop day will how to use jazz methods creatively to enhance the music you want to make.
Players need to be able to play by ear or read music.
This workshop is being run in partnership with Cumbria Music Hub and will led by professional jazz tutors including Jilly Jarman and Geoff Bartholomew from BlueJam Arts.
The cost of the workshop is £15 payable on the day.
To book, please download and fill in the booking form below and return to Janet.Brown@cumbria.gov.uk by Friday 29th September 2017
Creative Jazz Registration Form Oct 2017.
If you would like any more information please email cath.sewell@lancashire.gov.uk