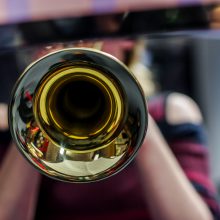 It's not the start of 2021 that we all wanted, but Lancashire Music Service are very much open for business and we aim to keep our teaching and musical opportunities up and running through the latest lockdown.
Head of Music Service, Tim Rogers said;
"We have much more in place this time round and using the online platforms we have invested in, alongside the technology being used by schools to enable remote learning, we hope the vast majority of children and young people in Lancashire will be able to continue their musical learning throughout lockdown. In line with the latest government advice, our teachers are also able to carry on visiting schools to work with the pupils who are still attending.
As well as providing educational continuity, we hope that taking part in lessons and joining in online rehearsals with our various ensembles will help reduce stress and feelings of isolation at this challenging time".
The latest government advice for schools can be found here:
https://assets.publishing.service.gov.uk/government/uploads/system/uploads/attachment_data/file/950510/School_national_restrictions_guidance.pdf 
For schools and parents/carers who currently have lessons with the Music Service, you should have received details by email. If you have not had this information or have any queries, please email lancs.music@lancashire.gov.uk or call 01257 517116.