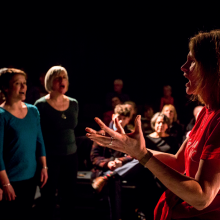 Join More Music to sing in a choir made up of people from across Lancashire.
More Music want to establish a Lancashire choir to bring an authentic Lancashire voice to the festival and reflect the diversity and stories of the County.
Raise up your voice to celebrate the county in Lancashire's leading arts festival.
You can help launch the festival on Friday 21st September and perform on the steps of Preston's dramatic Harris Museum on Saturday 22nd September.
The choir will perform new songs written by More Music's Loz Kaye along with the choir on Friday 21 and Saturday 22 September.
To find out more or get involved email matt.robinson@moremusic.org.uk