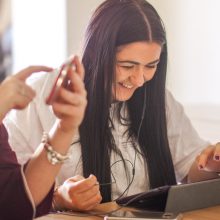 Last year Lancashire Music Hub introduced its new and improved music offer designed specifically for secondary schools. Secondary Music School Upgrades is designed to support teachers and schools and their pupils with their music provision. We worked closely with teachers in schools and our partners to put together a range of musical opportunities that will assist the challenges faced in bringing music to secondary schools. 
We are now pleased to have another partner on board the secondary Upgrades scheme, MusicFirst with Focus on Sound Pro. This is a popular, engaging, interactive and authoritative online resource to enhance teaching and learning music.  Focus on Sound Pro is accessible anywhere, anytime on any device and includes hundreds of lessons, GCSE and A Level content and self-marking tests drawing on an extensive encyclopedia of instruments, terms, composers, technology and theory. There is also a newly launched Sharing feature which will then enable all music teachers using Focus on Sound Pro across the country to share custom made lessons.
"MusicFirst is delighted to partner with Lancashire Music Service to provide our ever-popular resource, Focus on Sound Pro to secondary schools. Our mission has always been to provide the best cloud-based software tools to schools in the UK at affordable prices, and Lancashire Music Service have made it possible for schools to access this without the burden of depleting their limited budget." Richard Payne, Education Manager at MusicFirst
The Secondary Music Upgrades offer, launched in July 2018, incorporates music opportunities for pupils as well as training or consultancy session for teachers and staff. The music offer for pupils ranges from instrument sessions to rapping and online VIP Music Sessions. The application process has been made quick and easy too.
Find out more here and to apply in one click for your Secondary Music Upgrade!