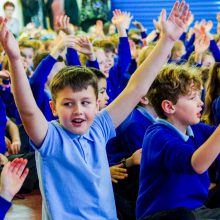 Lancashire Music Hub are inviting schools across Lancashire to be part of a brand-new Virtual Winter Big Sing!
Led by LMH vocal leaders Emma Williams and Tim Uffindell, you'll learn 5 songs, all with a 'wintery' theme. There will be performance ideas, warm-ups and tips; giving you everything you'll need to join in with a complete Big Sing Performance on Thurs 2 December.
You'll also have 5 great songs for use in your school's own Winter assemblies and end of term performances.
There'll be a chance to get the lowdown on the songs and ask any questions you have at an ONLINE "Teachers Singing in Schools Q&A Zoom session" on Tuesday 16th November at 4.30pm.
The songs will then go live on the Lancashire Music Service YouTube Channel commencing Monday 22nd November at 10am.
To register your interest and receive access to the Big Sing materials, click the link below:
Tuesday 16 Nov, 4.30pm           Teacher's Q&A Zoom Meeting
Monday 22 Nov                            All 5 songs and 2 Warm Ups released
Thursday 2 Dec, 11am               Complete Big Sing video released