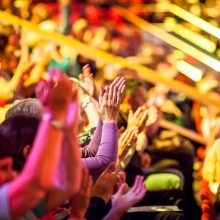 On 28 June 2017, Lancashire Music Hub brought together nearly 1000 children and young people from primary and secondary schools, special schools, More Music and our County Ensembles for the Big Show. We take a look back at this glorious celebration of music making in Lancashire and share with you some of the feedback from the participants.
The Big Show brought together singers and instrumentalists to perform music and songs which represented different aspects of Lancashire life, past and present. There were pieces by well-known composers inspired by Lancashire, including Elgar's Weary Wind of the West and William Rimmer's march, Slaidburn, some traditional tunes such as the mill song Poverty Knock and the folk tune Pilling Moss, and there were pieces which had been created with young people including an atmospheric piece about the Pendle witches and the parade, which is heard as the show journeyed from place to place.
Well done once again to everyone who took part and made this show such a success. It's fantastic to hear about the impact it had from the feedback we received from teachers, audience members, parents and young people…
'We loved it – it was fabulous and full marks for inclusion – so naturally and well done….'
'Pupils came away with an enthusiasm to carry on learning their instrument, a few were considering stopping but having seen what it's like to play in a group they are going to continue to learn'
'Although I think I understood musical inclusiveness in theory, the show was a masterclass in how fantastic and moving it can be in practice…….Awesome!'
'As an older member of the orchestra, I felt that the impact the performance had on younger members was outstanding and I'm sure that they will now have more passion for music, as I have. Taking part in this event has really inspired me to become more involved with things like this in the future…'
'I loved the music that all of the musicians played, how they make you feel joy and life in a dark room.  I can't dream of imagining to invent all of these powerful, life-changing, unbelievable songs.  Everyone sang and played their hearts out in a perfect harmony all by your doing!  You've shown me that instruments and voices can make incredible music….'
'As staff we thought it was a lovely event, because we took children who wouldn't normally participate in our music performances. We engaged a different group of children to normal and they loved it. Thank you for all your hard work and effort that went into making the show, they will remember it for a long time!'
'We loved the whole performance aspect.  Our lesson can often be in a small dull room, and that is all they see day in day out when practising and to take part in the concert with all the amazing older instrumentalists they just took away a sense of amazement and achievement that they don't get normally'
You can read more from participants and see a selection of pictures from the show on the stories section of our website
Watch the 3 minute highlights or the full length video of the Big Show…
3 Minute Highlight:
Full Show:
The Big Show was developed and produced by Lancashire Music Hub core partners, Lancashire Music Service, More Music with additional input from David Ashworth.