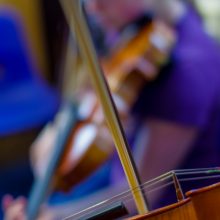 The Lancashire Youth Symphony Orchestra (LYSO) is looking forward to bringing its busy 2018/19 season to a close with an exciting collaboration with Preston Opera with an Opera Gala concert on Saturday July 13th in Preston.
LYSO will accompany the chorus and soloists from Preston Opera in a host of operatic favourites including the Triumphal March from Verdi's Aida and his Anvil Chorus from Trovatore, the Toreador Song (Carmen) and famous numbers from Verdi's La Traviata including the 'Drinking Song' and 'Sempre Libera'.  The orchestra will also perform Mozart's 'The Magic Flute' overture and Borodin's Second Symphony.
'It's always exciting to bring together two great ensembles from Lancashire together.  The rare opportunity for our young players to gain experience of playing operatic repertoire is such a great learning experience for them.  The skills required demand another level of listening and musical awareness which is invaluable as they develop their musical skills" commented Helen Harrison, the Music Director and Conductor of both the Lancashire Youth Symphony Orchestra and Preston Opera.  'From Preston Opera's perspective, it really fits with our mission to bring opera to new audiences and ignite that love of opera in the next generation of audiences and players – not forgetting the thrill of singing with a full orchestra!"
Preston Opera have been sharing their passion for opera with audiences in the North West for over 50 years and believe that opera is for everyone.  Famous singers who have sung with the opera company include the nation's favourite tenor Alfie Boe who hails from Fleetwood in Lancashire.   Besides having a strong chorus the company is proud of its record in giving young singers who have trained at the UK's leading music conservatoires the opportunity to gain valuable experience singing principal roles in a professional theatre with a full orchestra.
This year Preston Opera performs Verdi's Macbeth in the Charter Theatre at Preston Guild Hall on Friday June 7th and Saturday June 8th starting at 7.15pm before rehearsals start for the operatic gala concert.
LYSO welcome new members to the band to find out more visit the ensembles page HERE to find out when and where they meet and who to contact to join a session
Click HERE for the joint concert flyer on 13th July.