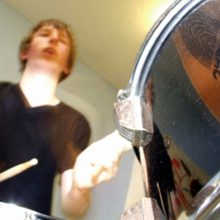 More Music in Morecambe have been developing young musicians in the community for the last twenty years. They set up Stages over six years ago with a view to engage more young people in the region with music making  and access to instruments, but in a fun relaxed environment where they make friends and get together.
Stages has been running over over 20 years now and is one of More Music's longest running projects. It is currently attracting over 40 young people every week who come together on a Thursday evening to make new music and meet friends, write and record songs and develop their skills as musicians and producers.
"Stages has helped me discover my talent and musical talent and I probably wouldn't be playing music or have had an early start in playing gigs or studying without it" –   Stages participant.
Stages started as a project to give young aspiring musicians who were looking to develop their skills as songwriters, musicians and performers. Working with a team of highly skill and experienced local musicians and mentors, Stages has been supporting young musicians across the North West for many years now, providing support, guidance and progression routes to a wide range of careers in the music industry.
Through this programme, More Music Music Leaders, particularly Rachel Parsons, have introduced countless young people to instruments like guitars and drums, developed songwriting skills and built the confidence to sing or play in front of their peers. In turn, these young musicians have formed bands and learned the basic skills required to perform effectively as a group.
"The past 6 months I've come from being the shyest person you could ever meet to be confident, and without Stages I wouldn't be the same, because it's like a home away from home and one of the best ways to stay happy" – Keeley, Stages participant.
"Without Stages, Fourth Time Lucky wouldn't be here… Stages is my life" – Damien, Stages participant.
More Music went on to develop 'Stages Live and Loud' which offers the most polished young bands emerging from the Stages open Thursday sessions the opportunity to perform as support or opening acts for more experienced artists performing at More Music Hothouse venue. As these events were run to a professional standard, albeit with a supportive production team around them, this would provide the ideal stepping stone towards the realities of the outside world and performing to an audience.
Anyone attending Stages on a Thursday can explore their interest in songwriting, singing, performance, production, instruments, and much more. The type of music played is totally down to the individual.  If participants want to be drummer, a guitarist or a saxophonist, its an opportunity to meet new people, find a spark of inspiration and possibly start a band. There are lots of opportunities for non-instrumentalists too: singing and songwriting and learning about music production and the music industry.
Stages is at More Music every Thursday evening, for young people aged 11 – 18 and all abilities.
Stages Live and Loud gig is on 23 March 2018 – click here for more information and tickets.
To find out more about Stages visit here.