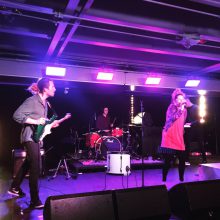 On a wet Tuesday morning, Scottish pop artist, singer, songwriter and producer Charlotte Brimner from Be Charlotte, along with her guitarist Stuart and manager Louie descended upon Lancaster & Morecambe College to begin a short college tour of the North West.
Charlotte, who has just recently signed a world wide record deal with Sony label Columbia, was in town to deliver a series of music industry masterclasses in songwriting, stage craft and production to students studying music at both Lancaster & Morecambe college and Preston College and then headline a gig organised by the Preston Young Leaders team at Preston's prestigious Guild Hall. A More Music production for Lancashire Music Hub.
Described as being all about the damn good vibe, Charlotte and her band were ready to share their experiences touring and what its like to take part in songwriting camps with strangers in Austin, Texas! Students were treated to acoustic performances of some of Be Charlotte's stunning, usually electro pop tracks and discussions ensued about how songs are constructed, lyrical ideas and ways to develop interesting chord progressions. Charlotte shared the methods she has developed with her team that boost her confidence and catch an audience's eye and gave the students tips on how to cope with nerves and performance anxiety.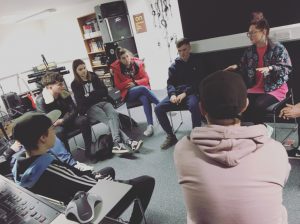 4 masterclasses were delivered over 2 days reaching 30 aspiring musicians who were able to really identify with Charlotte and her band because of shared interests, musical tastes and similarities in age. This connection, which is vital to a mutual educational experience, also fostered an environment where students felt they could ask the questions they might never ask their tutor and take the responses on board.
Following the masterclass at Preston College, the Be Charlotte entourage headed into town to set up for soundchecks in LIVE, a great new venue within the Guild Hall complex where the Preston Young Leaders team have been meeting over the past term to plan the gig.
This youth leadership project is run in partnership with Lancashire Music Service, More Music and Preston Guild Hall and the group of young promoters have been busy organising their second gig at LiVe for the past term with the goal of giving emerging artists a platform to showcase their talents. Alongside this, the group have been developing their event management and promotional skills by having the opportunity to within a busy professional venue and alongside the Guild Hall's marketing and tech teams. They have also been working towards their bronze and now silver arts awards.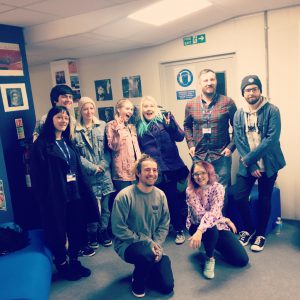 With Be Charlotte set for the headline slot, local band Minutes to Hours and singer Chloe Pearson from Preston College and Midnight Preachers from Moor Park school were booked for the support slots and given the chance not just to play in a professional venue but support a signed artist!
Stage managed by the young leaders teams from Morecambe and Preston, the night ran smoothly with lots of support from family and friends who were excited to see the bands play on such a big stage. And it was clear, when Be Charlotte hit the stage, that she already had fans in Preston as people ran in dancing and singing along to her infectious electro beats and sweeping vocals.
Charlotte from BeCharlotte said "I loved meeting lots of new people and hearing about their experiences working in the music industry. It was amazing to play the show in Preston Guild Hall too!!!  Its great to be able to just chat about music and in particular songwriting and stagecraft. In my opinion, they are the sort of things that don't necessarily have a handbook to tell you what to do and sometimes just talking about them with different people can make it seem less daunting to finish a song or get up on a stage. I not the type of person who says "oh look at what I've done" but I want to share with people some things I've learnt and continue to learn whilst working in the music industry. Ultimately I hope to inspire more young people to get involved in music. I think it's important to keep challenging yourself to try new things".
What next for these young leaders? What will the next gig be? How can we all make the most out of the masterclasses and the learning. Watch this space! Blog posted by Rachel Parsons
If you are interested in getting involved in promoting music events in Preston with Preston Young Leaders, then please visit here or email direct PrestonYoungLeaders@outlook.com or find Preston Young Leaders on Twitter @pylpreston and Facebook