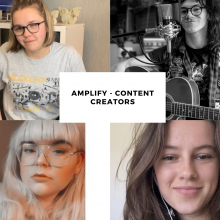 Meet our team of four Content Creators who are taking forward the work of our youth voice programme, Amplify. Earlier in the year, four musically-minded young people were commissioned to explore four key areas of music education in Lancashire which were highlighted through a survey. Later this term we will start to show some of the new work that has been done as part of the project.
Caitlin:
I'm 21 years old and I'm from Preston studying Film and Media Studies at UCLAN. My musical background started at GCSE level but I've always had an interest in music, particularly in the technical and management side of the industry. Applying for university, I decided to go into film and media as it enabled me to have a different perspective which has allowed me to be creative in how I approach music and find my place within the industry.
My plan is to produce a virtual exhibition which will explore several avenues such as education in classrooms, out of school and self taught music education. I hope to gather more information about music education and how people are able to access different opportunities in person but now also online, and how the sudden change to virtual learning has affected people's lives. I also hope that the exhibition will spark a debate within this area and start a conversation on what we can all do to help improve the way that music education is delivered. From a personal point of view, I'm also looking forward to meeting new contacts which may help my future career in the music industry.
The impact of this project will be to hopefully raise more awareness of the need for music education and how large the music industry truly is in terms of possible career paths, with many jobs able to be done online. In my experience, Lancashire's music scene is quite self-contained within the area so I hope this project helps develop new opportunities for young musicians to make music on their own terms, and supports those pursuing musical careers to have opportunities to reach a larger audience in safe, creative ways…
Read more about Caitlin HERE
Olivia:
I'm 18 and studying for my A Levels this year in Music, English Literature and Product Design. I'm from Blackpool but I spent most of my childhood living in Munich, Germany. I am a violinist and take part in multiple orchestras (such as the Lancashire Youth Symphony Orchestra, Blackpool Symphony Orchestra and the Munich International School Orchestra) and string ensembles.
I initially applied to be an Amplify Content Creator as I wanted to explore in more detail the impact music had within the county on young people and how we can improve it. My area of focus is 'Career Paths within Music', delving into the reasons why people choose a career in music and the statistics behind why careers in the arts are declining. This area is particularly personal to me at the moment as I am currently going through the application process of applying for a music degree to pursue a career in music. I would like to explore the restrictions of stereotypes, images and gender that are associated with a career in the arts and share this information with young people like me. I hope the project leaves an impact on young people in Lancashire, inspiring others to look wider into the career options available and promote music education…
Read more about Olivia HERE
Aaron:
I'm an 18-year-old creative artist and performer from Burnley. I finished studying Digital Creative Media Production at Burnley College in June 2020 with hopes to go on to event videography and photography, however a certain pandemic said otherwise.
In my first year of studying at college, I was tasked with creating a TV news piece which involved finding a story to report, researching it and then making the video – I chose the ongoing cuts to arts funding in schools in the UK. While doing my research I found how major the cuts were and how little schools had to work with. Jump back to today and music education is arguably in a worse state due to the pandemic with lessons being forced online and practical lessons taking a big hit. Inspired by the Amplify survey as well as my own experiences, I'm aiming to produce a music video to an original song that puts across key facts, different perspectives and challenging truths found from my research!
From working with Amplify I hope to gain professional experience working in a media environment and for my work to hopefully help raise awareness  of the current state of music education, not just in the North West but all over the UK, and to inspire positive change in Lancashire…
Read more about Aaron HERE
Caitlin:
I'm 17 years old and I'm from Blackburn. I have always loved music as I found that it was a great escape from the real world.
The thing I love about music the most is how it brings people together, the amount of amazing people I've met through music is incredible and to be able to collaborate with them just made my passion grow even more. I have done GCSE music and am currently studying A-level music (the only person in my year).
I hope that I gain more knowledge about other people's insights into music education and that I am able to inspire other music teachers and encourage young aspiring musicians to learn an instrument and adapt to learning in a way that works for them. I hope that music education in Lancashire develops more from primary education to further education and that music teachers can be supported to teach their students based on their specific style of learning rather than what an exam board want to see…
Read more about Caitlin HERE