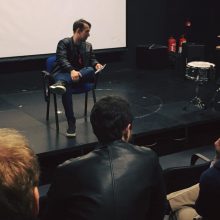 Music students from Lancaster and Morecambe College, Morecambe High and Preston College have recently been treated to music masterclasses from James Carey, Artist Manager/ Producer at Evoke Music Management and Creative Director at Indigo: Artist & Label Services.
The masterclasses are funded by Lancashire Music Hub and organised by More Music, as part of a programme of progression opportunities for Further Education music students in Lancashire.
At three masterclasses in October 2017 James talked to students about career opportunities and delivered a commercial songwriting workshop, using real songwriting briefs from major record labels.
Music tutor Louis Davy said "We are fortunate to have a great relationship with More Music in Morecambe who provide us with opportunities to get guest lecturers and industry experts in on a regular basis. The students really enjoyed the session and are looking my forward to more industry days throughout the year."
Other masterclasses have been delivered by former Elbow drummer Richard Jupp and singer Yvonne Shelton, currently performing with Hacienda Classical.
If your school or college is interested in hosting a masterclass for your Further Education music students, please contact Darren Leadsom at 
darren.leadsom@moremusic.org.uk
.