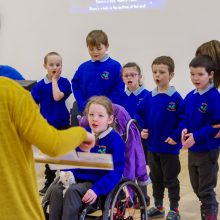 In early February groups from special schools across Lancashire came together at Ridgewood Community High School in Burnley for their annual sharing event, which was set up by the SEN Music Teachers Forum and is now in its fourth year.
There were some fun based activities before each school performed their musicals inspired pieces they had prepared for the event. The event culminated in everyone singing the song 'A Million Dreams' from musical film The Greatest Showman.  As ever this was a fabulous occasion for everyone involved.
Chris Bridges, SEN school tutor at the sharing said:
"This year we had a lovely variety of performances, this is the fourth time we have done this event now and  seeing all the pupils respond so well to live music makes everything very exciting. This is all about giving pupils from SEND schools an opportunity to perform to their peers, and to join in singing and playing with others.  Any SEN school is invited – please join in with our SEN Music Teachers forum and join the sharing event next year"
If you are interested in being involved in any of our SEN gathering please email Ashley ashley.murphy@moremusic.org.uk and your school or group can perform at a gathering or be involved with the SEN Music Teachers forum.