Technology
Lancashire Music Hub has pioneered the use of technology in music education.
In 2009, Lancashire Music Service won a special E-Government award presented at the Guildhall in the City of London, which recognised the Music Service's pioneering work in partnership with Charanga to develop a technology-supported whole class instrumental teaching programme called inspira®.
Integrated technology
Today, the Hub's use of technology has matured to the point where technology is integrated into almost every strand of music provision from whole class ensemble teaching to curriculum support, from music creation at GCSE and BTEC levels to assistive technologies for children and young people with special needs and disabilities.
You will see examples of technology applications all around this website in the sections for schools, music educators, parents/carers and young people. In this section though, the discussion is more high level. We'd simply like to provide an insight into the choices we make, show you what we're doing with technology and why.
Our approach
It is a fact that technology ultimately transforms every industry. Education is no exception. With a plethora of technology options available our approach here at the Lancashire Music Hub is to seek out educational technologies that build capacity ie ones that enable us to provide more and better support to more people and in doing so help our funding to go further. We look for technologies that improve accessibility and inclusion and we champion technologies that are truly educational, helping children and young people to think for themselves and to be creative.
Here are just a few of the apps we support across the Hub for teachers, children and young people.

Music Explorer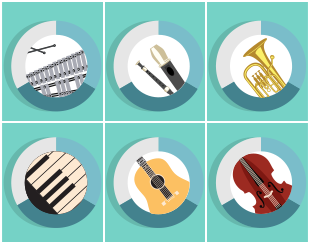 Percussion Writer
Rhythm Grid Player
Recorder Player
Active Listening
Skoog
Songplayer
Recorder and Glock Performer
Music and Movement
Listen and Appraise
Hip Hop Coach
Double Bass Player
E-Music Maestro
Our newsletter is the best way to keep up to date with musical opportunities and events.
Quick links: