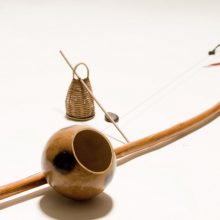 | | |
| --- | --- |
| Date: | Saturday 7 April 2018 |
| Time: | 12 - 5.30pm |
| Price: | £10 |
| Venue: | Media Factory, University of Central Lancashire (UCLan), Kirkham St, Preston, PR1 2XQ |
| Tickets: | Book now |
More Music, Lancashire Music Hub and Manchester Capoeira Academy would like to invite you to a Berimbau workshop.
Berimbau is a captivating percussion instrument from Brazil and the main instrument used in Capoeira martial art/dance. One of the things that makes Capoeira stand out from other Martial Arts is the use of musical instruments and singing.
The Berimbau can compliment your existing musical skills and added to your repetoire, or simply experience, play and learn more about this fascinating instrument.
This workshop is ideal for both beginners and experienced musicians and anyone who is keen to expand their knowledge and experience of cultural music instruments.
"The Berimbau produces a truly unique sound that dictates tempo, rhythm, when to start and when to stop, the speed of Capoeira and of movement itself" 
Instruments will be provided for all participants to use. Light refreshments will be provided but please bring your own lunch.
More Berimbau information:
The berimbau (bee-rim-bau) is a single string percussion instrument, described as a musical bow with African origins. The berimbau consists of a flexible wooden bow called the biriba or verga, a steel string called the arame, and a gourd called cabaça. The berimbau is played with the help of a small, thin stick called the baqueta or vareta, a metal or stone disk called dobrao or pedra, and a caxixi (shaker). Every part of the berimbau plays a role in the production of the music and rhythm.
Organised by More Music and Lancashire Music Hub, with tutors from Manchester Capoeira Academy.
For more information contact Rodney Adams on 01524 831 997  or email: Rodney.Adams@moremusic.org.uk
Book now