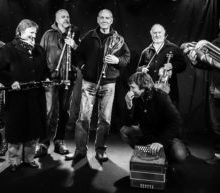 | | |
| --- | --- |
| Date: | Saturday 30 March 2019 |
| Time: | Through the day from 10am |
| Price: | Workshops and evening event: £24 Workshops only: £15 Evening event only: £16 on the door, £15 in advance (Under 25's discounts available) |
| Venue: | More Music, 13-17 Devonshire Road Morecambe LA3 1QT |
| Tickets: | Book now |
Blowzabella will be running melodeon, pipes, hurdy-gurdy, song, fiddle, ensemble and dance workshops throughout the day at More Music.
Blowzabella are a genuinely unique band that makes an inimitable, driving, drone-based wall-of-sound, played with a fabulous sense of melody, rhythmic expertise and sheer feeling. Blowzabella is made up of Andy Cutting – diatonic button accordion; Jo Freya – vocals, saxophone, clarinet; Paul James – vocals, bagpipes, saxophones; Gregory Jolivet – hurdy-gurdy; David Shepherd – violin; Barn Stradling – bass guitar; Jon Swayne – bagpipes, saxophone.
The workshops are for different ages and abilities so make sure you check out the web link below for more details on each session:
10am – 12.30pm | Dance Workshop
2.00pm – 5.30pm | Instrumental and Vocal Workshops
10am – 5.30pm (with lunch break) | Ensemble
For more information on the workshops or event email info@moremusic.org.uk or click here.
To book tickets follow the BOOK NOW button.
Book now