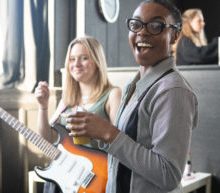 | | |
| --- | --- |
| Date: | Saturday 16 July 2022 |
| Time: | Times vary |
| Price: | FREE - registration is essential |
| Venue: | More Music |
| Tickets: | Book now |
Calling aspiring songwriters, musicians, and producers – Girls Can is back! 
Saturday 16 and Sunday 17 July!
Empowering and inspiring young women to achieve their full potential, we are excited to present series 2 of our Girls Can Artist Bootcamps.
Join Sarah Angel, IORA, Harriet North, and Rachel Parsons, our brilliant resident artists, for an inspirational series of weekends over the next year.
If you sign up to series 2 of our Boot Camp weekends you will be mentored by our inspiring professional team through the process of songwriting, collaboration, recording, mixing and mastering, releasing your music and performance.
July's boot camp will focus on advanced songwriting techniques and you will have the opportunity to nurture and develop your musical, technical and professional practice.
* develop advanced songwriting techniques
* learn to write in a team
* explore the demo process
* develop creativity within songwriting
* develop understanding of production terminology 
* vocal care 
* build professional working relationships
Application Process:
To find out more and /or to make a booking, please email  rachel.parsons@moremusic.org.uk. telling us about your musical experience and background and why you would like to be part of this project
For young women aged 14 -19 
Food and refreshments will be included 
Travel bursary's are available 
For phase 1 of Girls Can, participants released an EP of tracks written, recorded and produced during the residency. Read all about it and listen here.
Girls Can is More Music's campaign to redress the balance of women's representation in music. Funded by Youth Music and Lancashire Music Hub, Girls Can supports young women aged 14 -19 to challenge stereotypes, to feel confident about the future and the choices they make.
Book now