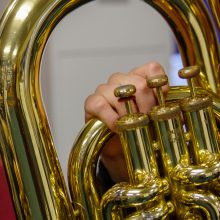 | | |
| --- | --- |
| Date: | Monday 29 April 2019 |
| Time: | 4pm - 6pm |
| Price: | Free! |
| Venue: |  Kirkham and Wesham Primary School     |
Kirkham Music Centre  like to invite you and your child to their relaunch day on Monday 29th April at the music center's new venue Kirkham and Wesham Primary School .
Come along for a free trial and you can sign up for only £15 for the Summer term!
Our Music Centres are a place where young musicians of all levels of experience can play together in bands and ensembles and sing in choirs on a weekly basis.
Kirkham Music Centre has the following groups starting up:
4:00 – 4:30pm – New Brass Blasters! A group for children who are currently involved with whole class brass wider opportunitie and a chance to develop skills further.
4:30 – 5.00pm – Beginner Band  – suitable for brass and woodwind players beginners upwards.
5.00 – 5:30pm – Choir – suitable for all ages and abilities.
Lessons also available for brass, guitar, strings and woodwind. Please contact Julie Rayton for more information.
Contact Julie Rayton , Tel 07824 434282 or email julierayton@lancashire.gov
We look forward to welcoming you to Kirkham Music Centre!