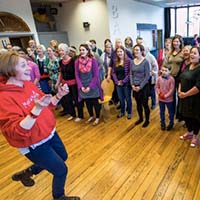 | | |
| --- | --- |
| Date: | Saturday 12 November 2016 |
| Time: | 16:00 |
| Price: | £15 |
| Venue: | The Hothouse, Morecambe |
| Tickets: | Book now |
The With One Voice workshop is safe and informal place to learn and share beautiful songs by singing with others.
Everyone is welcome to this workshop, with all levels of experience, even those with none previous. Anni Tracy, who has been leading workshops and choirs for over 15 years, believes everyone can sing. Learning by ear and singing with an open joy.
Jules Gibb has been teaching choirs and workshops independently for over 25 years as well as acting as advisor and trainer in education and theatre projects and running her own vocal projects Manchester and beyond. She regularly teaches in the US and in Germany and her work has been recorded across Europe, Australia and America as well as being used by the BBC. Jules is the MD of Sing for Water North and annually gathers choirs across the northwest into a mass concert for Wateraid. She also performs with the women's acapella group The Lovenotes. Jules' workshops are accessible, satisfying and fun.
Book now