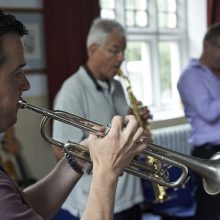 | | |
| --- | --- |
| Date: | Saturday 11 November 2017 |
| Time: | 11:30am-1:30pm |
| Price: | £4.50 in advance/£5 drop in |
| Venue: | Lancaster Community Music Centre, Lancaster Royal Grammar School, LA1 3AF |
Orbit Jazz Workshops are a great place for place for anyone with an interest in improvisation and jazz to learn and develop their skills. Participants come from a variety of backgrounds and have a wide range of musical experience, from those who just play their instruments at Orbit, and similar groups, to those that are developing on a path to become professional musicians.
Perfect for 16 years old and above, with some playing experience. They run every Saturday!
There's a great social aspect and the workshops are constantly changing, with new members introducing fresh ideas and inspiration. And if you're interested in live performance, Orbit members regularly play as a band at festivals around the district.
Dave, who leads the sessions, is both an experienced workshop leader and pro musician. On top of this, previous sessions have featured guest leaders such as New York guitarist Eyal Moaz, drummer Asaf Sirkis and local jazz musicians Jon Moore and Adrian Boardman.
Call 01524 831997 and ask for Dave Shooter, email info@moremusic.org.uk or come along to a session.