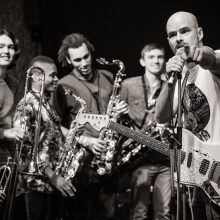 | | |
| --- | --- |
| Date: | Saturday 13 October 2018 |
| Time: | 1pm - 8pm |
| Price: | FREE |
| Venue: | The Grand, Clitheroe |
| Tickets: | Book now |
An amazing opportunity to collaborate with musician and composer Chris Sharkey (trioVD, Roller trio, Acoustic Ladyland).
Listen play, experiment and have fun making music that represents the personalities within the group while touching on concepts and techniques present throughout the rich history of jazz music, and take part in a live performance in front of an enthusiastic festival audience at The Grand to be followed by a headline performance by Chris's band 'Roller Trio'.
"One of the things I like about Jazz, kid, is I don't know what's going to happen next. Do you?" – Bix Beiderbecke
The project is FREE to take part.
You will need to be aged 11 – 18 years and you will need to be available in Clitheroe on the following dates:
Saturday 13 October – 1pm – 8pm
Saturday 20 October – 1pm – 6pm
Any genre and instrument is welcome, including electronic instruments and voice. We recommend that you have at least an intermediate level of experience on your instrument/voice but the most important things to bring are your ideas and creativity!
Book now