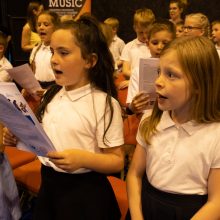 "A lovely way to bring Chorley schools together!"
July saw the Hub's first Big Sing at Chorley Town Hall.
Seven schools joined musical forces to sing to a delighted public audience on July 4th.
The Big Sing came out of Lancashire Music Hub's collaboration with the Chorley Schools Sports Partnership. CSSP bring hundreds of young people together across the year in sporting activities and games but we were really keen to explore the positive effects singing brings to young people's well-being.
"We wanted to give some schools in the Chorley area the chance to find their voices, work with inspiring vocal leaders to build their enthusiasm and then share that passion in a historic local venue"  said Emma Williams, Lancashire Music Hub's Singing Leader.
Schools were given a set of expertly picked, catchy songs to practise in school and then received a school workshop from the Big Sing's Leader Tim Uffindell enabling schools to get the very best out of their young singers.
The 221 young singers then met for a morning of singing, fun and rehearsal in the Town Hall prior to their lively performance that afternoon.
We were lucky enough to recruit our band drummer for the event from our brilliant LMH County Ensembles alumni of the Lancashire Youth Jazz Orchestra. Jonathan Raynor, who left LYJO earlier this year was able to come back to his roots and work with the young people for the event. "It was inspiring to see the younger ones singing, as I had done myself when I was in primary school" said Jonathan "It was lovely to be able to bring all that excitement and joy "
The concert certainly went with a bang; with the young singers on their feet, dancing in the aisles and a thrilled  – so much so, plans are afoot for two Big Sings for June 2020. 
If your school would like to be involved or for further details email Emma at Emma.williams@lancashire.gov.uk
"What an absolutely wonderful day that was. Thank you to everyone involved." Mrs Joanne Geldard, Head Teacher, Lancaster Lane School
"Just wanted to say 'Thank you' to you and all the team for today. We all loved it -the children were buzzing on the coach back to school. What a lovely way to bring Chorley schools together!" Nicki Bowden, Balshaw Lane School"