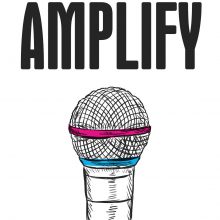 Our Music Hub Youth Board, Amplify, are working with the National Festival of Music for Youth to host a prestigious Citizen's Assembly on Saturday 8th of July. Amplify have been working with London's Tri Borough Music Hub to create the event which will bring together young people with representatives from the music industry, education, and policy makers to debate the future of music education.
A Citizens Assembly brings people together to deliberate on issues and recommend solutions that shape the future of policy. The assembly is a democratic approach to solve problems in access to  and progression in music  and empower young people, whether they want to develop their skills, build a career in music or experience it as a source of joy.
The event is taking place at B:Music, Birmingham from 10am – 2pm. The format is as follows:
Young people are brought together to form an audience and deliberate on issues effecting music education and/or industry
A series of themes, questions and topics are posed to the panel of senior music education and industry professionals
Young people get analyse and question what they hear in response to the panel
Facilitators then help the audience to explore these range of issues and discuss solutions via roundtable discussions
The group arrives at a series of recommendations (which makes up a manifesto)
If you would like to attend this special event or bring a group of young people along to take part, please complete the application form.
Please join us in supporting our young people in the North and get the word out!