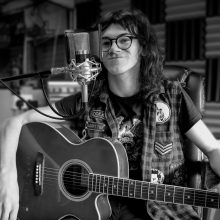 This week, we're introducing the second of our young content creators who are taking forward the work of our youth voice programme, Amplify. Earlier in the year, four musically-minded young people were commissioned to explore four key areas of music education in Lancashire which were highlighted through a survey.
 Hi, I'm Aaron and I'm an 18-year-old creative artist and performer from Burnley. I finished studying Digital Creative Media Production at Burnley College in June 2020 with hopes to go on to event videography and photography, however a certain pandemic said otherwise.

As well as being a budding filmmaker, music too has been a passion since I was young and, finding myself bored in lockdown, I put mind to using my newly constructed home studio to produce my own music of which I also produced coinciding music videos. Unemployed and bored, I applied to be one of the Amplify Content Creators knowing it was a chance to get back to producing media content, but also to have my say on a topic I'm so passionate about. My focus area is 'What there is, and what there should be' and I can't wait to get stuck in with it because being a musician myself, I know the importance of everyone having an equal share of music education and from experience know how much some schools struggle to give students that.

In my first year of studying at college, I was tasked with creating a TV news piece which involved finding a story to report, researching it and then making the video – I chose the ongoing cuts to arts funding in schools in the UK. While doing my research I found how major the cuts were and how little schools had to work with. Jump back to today and music education is arguably in a worse state due to the pandemic with lessons being forced online and practical lessons taking a big hit. Inspired by the Amplify survey as well as my own experiences, I'm aiming to produce a music video to an original song that puts across key facts, different perspectives and challenging truths found from my research!

From working with Amplify I hope to gain professional experience working in a media environment and for my work to hopefully help raise awareness  of the current state of music education, not just in the North West but all over the UK, and to inspire positive change in Lancashire.
Amplify aims to ensure young people's voices are represented at a strategic level within the Music Hub. If you are a young person aged between 14 and 21 interested in getting involved with the project, please email Hannah@blazearts.co.uk.
Lancashire Music Hub are working in partnership with Blaze Arts, a youth led charity, to run the Amplify project. This phase of the project is kindly supported as one of ten Elevate projects funded by the Associated Board of Royal Schools of Music.