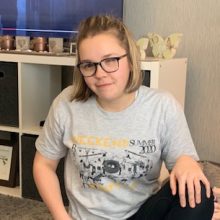 Over the next few weeks, we are introducing our young content creators who are taking forward the work of our youth voice programme, Amplify. Earlier in the year, four musically-minded young people were commissioned to explore four key areas of music education in Lancashire which were highlighted through a survey.
Our first blog is from Caitlin:
Hi, I'm 17 years old and I'm from Blackburn. I have always loved music as I found that it was a great escape from the real world.

My primary school didn't really do much music other than singing in talent shows and the music lessons we got in year 4 however in high school I really go into it. A lot of my friends that I made in year 7 went to primary schools that did plenty of music and therefore they played an instrument.

I started learning piano and found that it gave me a real insight into playing music and that is where I think my love for composing began. I started singing lessons a couple of months later at the same music school and loved it. Vocals is my main instrument however once I'd learn the basic concepts of piano, I began to learn guitar, bass and drums on my own.

The thing I love about music the most is how it brings people together, the amount of amazing people I've met through music is incredible and to be able to collaborate with them just made my passion grow even more. I have done GCSE music and am currently studying A-level music (the only person in my year).

I picked the topic of the 'Averageness of Music Education' I feel this topic is a very good subject for me to cover because as a Visually Impaired person I was never really able to read sheet music like everybody else and learnt very much by listening. Doing exams wouldn't really work for me and I found that at my current music school they are very modern and very much teach to the student rather than teach to the exam and this is definitely why I thrived.

I hope that I gain more knowledge about other people's insights into music education and that I am able to inspire other music teachers and encourage young aspiring musicians to learn an instrument and adapt to learning in a way that works for them. I hope that music education in Lancashire develops more from primary education to further education and that music teachers can be supported to teach their students based on their specific style of learning rather than what an exam board want to see.
Amplify aims to ensure young people's voices are represented at a strategic level within the Music Hub. If you are a young person aged between 14 and 21 interested in getting involved with the project, please email Hannah@blazearts.co.uk.
Lancashire Music Hub are working in partnership with Blaze Arts, a youth led charity, to run the Amplify project. This phase of the project is kindly supported as one of ten Elevate projects funded by the Associated Board of Royal Schools of Music.