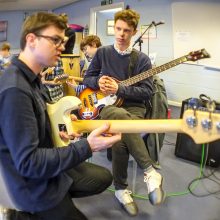 We are very excited to announce the recruitment of four young content creators who will be taking forward the work of our youth voice programme, Amplify. 
Amplify aims to ensure young people's voices are represented at a strategic level within the Music Hub and, building on the work of previous Amplify members, these young people will bring the conversation about music education in Lancashire to a wider audience.
"Amplify is such an important part of our Music Education Hub – we work with over 20000 children and young people every week across Lancashire and their experience and opinions should be helping to shape our musical offer. We need to find ways of listening to a wide range of young people, including those we are not currently engaging, to ensure our offer is relevant and reaches as many as possible."
Cath Sewell, Lancashire Music Service
In early 2020, before the first lockdown, Amplify had undertaken a successful research project collecting the views of over 400 young people in Lancashire about their experience of music education and, analysing the results, they agreed on four key areas. These included quality, opportunities, online learning and careers and each area will now be the focus of one of our content creators. 
The four young people, each from a different musical background, will study their area in depth and produce a piece of creative content which explores the issues involved from a wide variety of viewpoints. As well as a bursary of £500, they will receive training and mentoring throughout the process and their final pieces will be shared in the summer. 
"We are thrilled to support these four young creatives and excited to see how their engaging content will widen the conversation around music education with other young people and decision makers in Lancashire. The impact of COVID makes this work more important than ever." Hannah Whitlow, Blaze Arts 
Look out on our news feed and social media for blogs from each of the content creators over the next few weeks.
If you are a young person aged between 14 and 21 interested in getting involved with the wider Amplify project, please email Hannah@blazearts.co.uk.
Lancashire Music Hub are working in partnership with Blaze Arts, a youth led arts charity, to run the Amplify project. This phase of the project is kindly supported as one of ten Elevate projects funded by the Associated Board of Royal Schools of Music.