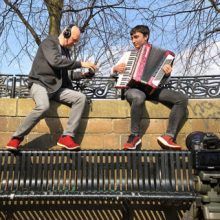 Darren Leadsom's blog about a recent project led by Lancashire Music Education Hub partners More Music:
More Music welcomed digital artists and musicians Addictive TV to Morecambe from Wednesday 23 to Friday 25 March 2022 for a residency funded by Lancashire Music Hub, leading up to a gig here on the Friday night.
They came to share 'Orchestra of Samples', a unique project based on sampling recording sessions filmed with nearly 300 musicians around the world over the last 12 years, from South America, Asia and the Middle-East, to North and West Africa and across Europe. They filmed pop-up recordings sessions with musicians improvising on all manner of instruments, from local traditional to contemporary and newly invented, then sampled them all to create new music. The result is a digital supergroup of international artists brought together, regardless of musical or cultural background, who never met but now 'play' together.
They began their residency on Wednesday with a masterclass for music students from Morecambe Bay Academy, even filming several students to become part of their archive (with of course all the proper permissions from parents).  In the evening, they visited More Media Collective to talk about their career, share advice and answer questions. They also recorded two musicians from the Long Walk Chinese Ensemble.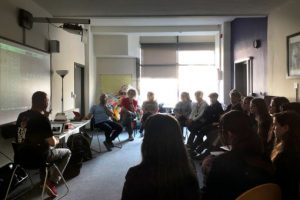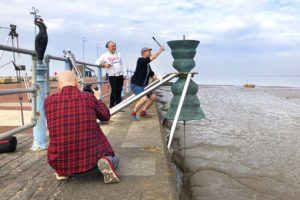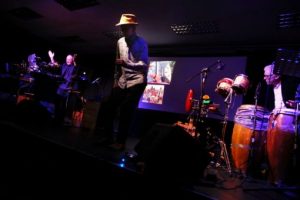 Unfortunately, two schools due to visit on Thursday for masterclasses were forced to drop out due to staff shortages through Covid. However, this gave Addictive TV the opportunity to spend the day adding more unique sounds to their archive, recording a 90 year old tap dancer, a hurdy gurdy player and the large Time and Tide Bell on Morecambe Prom with percussionist Pete Moser, founder of More Music and who originally helped make the Bell installation happen.
In the evening, they returned to More Music and answered some great questions from young people at Stages, staying throughout the session on the busiest night we have had since lockdown with over 40 participants.
On Friday, a group of More Music staff and local artists met with Addictive TV to find out more about their career, ask questions and be inspired to create new work as a result.  It was a really interesting session and a great opportunity to learn more about Orchestra of Samples, how it works and how it came about.
Finally, Addictive TV performed a fantastic gig on Friday evening, joined on stage by percussionist Robin Young, trumpeter Geoff Bartholomew and (for the last three songs) by 90-year-old tap dancer Roger Obertelli.  It was a fitting and fun conclusion to an impactful three days.
More Music would like to thank Francoise, Graham and Michael from Addictive TV for being in residence with us, it was great to have them here and our participants and staff greatly enjoyed working with them.
"It was a fantastic few days and a wonderful experience working with More Music." said Graham, "Aside from all the welcoming and helpful staff, the way More Music brings together music education, activities, a venue, a recording studio and various community youth spaces is just outstanding, and we all sensed a real community spirit there. I'd say the UK really needs more organisations like this around the country, particularly in London."
To find out more about Addictive TV and their project 'Orchestra of Samples', visit www.addictive.tv and www.orchestraofsamples.com
All photography by Francoise Lamy of Addictive TV