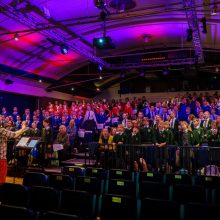 Would your school like to be involved in singing alongside other young voices in your area? Then have a look at the current LMH Big Sings.
Click here to register your school's interest in our 2024 Big Sings today!
Big Sing brings several schools together to perform in large local venues under the guidance of experienced vocal leaders.
We currently run 4 large scale Big Sings in the Burnley, Chorley, Lytham and Lancaster and Morecambe  districts. However, we are looking to expand into other areas of the County so please get in touch if this is something that interests you. Contact Hub Singing Leader Emma Williams emma.williams@lancashire.gov.uk .
Please use the link above to register your schools interest or scan the QR below on our E Flyer.