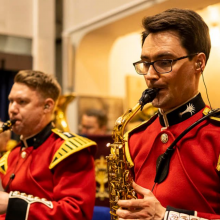 British Army Music invite you to the following events in 2023. 
Meet the Band Webinar:
Thursday 9th March, 19.00, Online.
The Band of the Grenadier Guards will be holding a virtual webinar.
Come and meet members of the band and hear about the experiences they have had in British Army Music and learn about what it takes to be an Army Musician. 
Open Day:
Wednesday 12th April, Wellington Barracks. SW1E 6HQ. 
The Band of the Welsh Guards will be hosting an Open Day. 
The open day is a side-by-side experience which will give you an insight into many activities within a British Army Music career.
Brass Band Academy: 
11-14th April, Holcombe Moor Training Camp, Spenleach lane, Hawkshaw, Bury, BL8 4JJ.
British Army Band Catterick will be holding a Brass Band Academy.  
Experience what life in a British Army Brass Band is like with this look at life opportunity.
Due to limited accommodation availability, this course is not residential. 
Summer Academy: 
Sun 30 July – 3 August, St Omar Barracks, Thornhill Rd, Aldershot, GU11 2BG. 
British Army Music's annual Summer Academy is back. 
This residential Academy focuses on life as an Army Musician.  
We'll be covering everything from basic military skills to marching band. culminating in a final concert with a British Army Band.