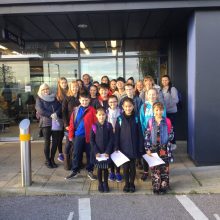 Following their trip to London last year to see The Lion King, Burnley Music Centre have again offered their pupils chance to be inspired by live musical theatre. Here's a report written by of the group..
During half term, some of us had the opportunity to go on an amazing trip to see Les Miserables in Liverpool at the Empire Theatre, and we all had an incredible time. We met at Manchester Road train station in the morning, and were put into our groups for the day before taking the train to Manchester Victoria, where we quickly changed to the train which took us to Liverpool Lime Street train station. After getting off our train, we walked through Liverpool to Ask Italian restaurant, where we enjoyed a three course meal, which was made up entirely of pizza, including a chocolate pizza!
Following our meal, we walked to the Liverpool Empire Theatre, and waited in the square opposite St George's Hall for the theatre to open; a good opportunity for photos! We then went into the theatre and got into our seats, which were the Circle Seating, so we had a brilliant view of the orchestra during the performance, which was mainly made up of woodwind players, so we could see them all swapping instruments in the middle of a piece! Les Miserables was set during the French revolution, so the costumes and scenery were really breathtaking, and the songs were very dramatic, with some incredible singing from the performers. We all thought that the play was fantastic, and the music, singing and acting were all amazing.
After the play, we walked back to Liverpool Lime Street train station, where we had some free time to buy our tea, and some drinks and snacks for the journey back home. We then got the train from Liverpool to Preston station, where we changed trains and went back to Manchester Road, where we were all picked up. We didn't want the day to end- we all had a brilliant time, and really enjoyed the trip!