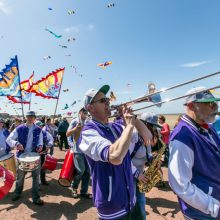 More Music's annual Catch the Wind Kite Festival returns to Morecambe Promenade on Saturday 23 & Sunday 24 June from 12pm to 5pm.
Catch the Wind regularly attracts thousands of people to Morecambe and has become a highlight of the local calendar. The festival is organised by More Music and is a great free family day out for all ages.
Enjoy impressive kites of all shapes and sizes flown by professional kite flyers, or bring your own kite and fly it on the beach. Thanks to sponsorship from Morecambe BID, this year the Kite Festival has expanded to cover North Beach.
There will live music, art and music workshops, street entertainment and bands, a funfair, storytellers, stalls, festival food and much more. New for 2018, the entertainment will also take place at New Town Square in Morecambe.
Entertainment across the weekend includes NuJazz Collective, a North West collective of DJs, rappers and producers and performances from More Music's very own Stages youth music group and Baybeat Streetband.
There will also be live music from Jess Gardham, Howard Haigh, Corvidae, Hiroshima Twinkie, Lancashire County Streetband Honk! plus many more.
Over the weekend inside The Platform, there will be a celebration of song with performances by choirs from across the North West.
Family favourite The Imaginarium will be returning to the Kite Festival this year where storytellers, magicians and circus artistes will dazzle and delight you with tales and acts of derring-do.
This year on the Sunday you can also visit The Fishing Hut, a fun and magical pop up gallery in the form of a fisherman's boat shed on wheels created by Morecambe Bay artists John Fox and Hannah Fox.
The highly decorative touring shed will contain video animations, woodcuts, printed images and music soundscapes along with hand-crafted books all containing stories of the Bay and amazing detail gleaned from the memories of fishing families around the Bay.
This event is FREE.