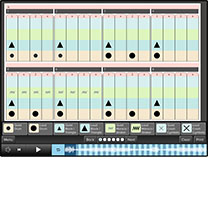 The new Percussion Writer tool, in the successful primary education platform, Musical School, helps you get the most out of your classroom percussion instruments.
There is an example score, where your classes can play along to famous pieces including Strauss's Radetzky March and Haydn's Surprise Symphony. Or pupils are able to write their own versions which helps them with listening skills and how to identify rhythms.
The Percussion Writer could also be used as a composition tool for creating pieces for the whole class or small groups.
Musical School users can find the Percussion Writer via the Freestyle tab within the site. To find out more visit Charanga's website here.