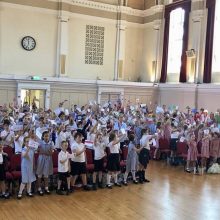 Last week, wonderful young voices could be heard inside Chorley's historical town hall!
Led by Emma Williams, several schools came together to celebrate music, singing and community at the heart of Chorley.
The Big Sing came out of Lancashire Music Hub's collaboration with the Chorley Schools Sports Partnership. The Sports Partnership bring hundreds of young people together across the year in sporting activities and games but we were really keen to explore the positive effects singing brings to young people's wellbeing.
"We wanted to give some schools in the Chorley area the chance to find their voices, work with inspiring vocal leaders to build their enthusiasm and then share that passion in a historic local venue"  said Emma Williams, Lancashire Music Hub's Singing Leader
Chorley is one of our Big Sings which are continuing to expand across the county, creating opportunities and moments to remember for both pupils and their teachers.
What our Big Sing schools say:
Fantastic day rehearsing and singing at the Chorley Big Sing concert. Well done children you were amazing and your colourful flags and kites looked incredible.
Year 4 attended Chorley Big Sing today, they all had a fabulous time.