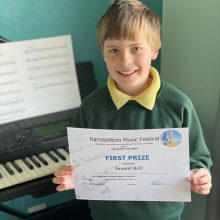 We were delighted to hear about the success of one of our students at a local music festival and we've shared below an article about the festival from the Accrington Observer. Congratulations to both Samuel and Lancashire Music Service teacher, Lorraine Scholes. We hope to see Ramsbottom Music Festival back with live performances next year!
The COVID pandemic did not prevent Ramsbottom Music Festival from going ahead this year.  Instead of the usual live festival which is held in Ramsbottom each March, the festival organisers took the bold decision to hold a virtual event.  The format involved musicians recording themselves performing at home, and then submitting their videos to the festival where adjudicators provided constructive verbal and written feedback and awarded prizes.  The festival was aired online over ten days in April, and participants were able to view each other's performances and hear tips and advice given by adjudicators as would normally happen at a live festival.  In addition to musicians from the North West who usually attend the festival, being online meant that entries were also received from all over England, Scotland, Wales and Ireland.  Amongst this stiff competition, one young musician from Lancashire Music Hub came out tops!  Samuel Bell of Great Harwood won 1st prize for Electronic Keyboard Grade 3 Standard playing a lovely rendition of "The Neverending Story" by Moroder.  Nine year old Samuel is a pupil of Lorraine Scholes at Lancashire Music Hub and has been learning the electronic keyboard for over four years.

Congratulations to all of the prize-winners and, indeed, to all the musicians who kept practising their instruments and attained such a high standard.  They should be very proud of themselves.  Their music teachers should be applauded as well for continuing to give lessons online during the lockdown – what an achievement, and well done all round!

As the majority of music festivals were cancelled this year, the festival organisers in Ramsbottom have received many emails of thanks and congratulations from music teachers and parents.  The festival committee, who are all volunteers, felt that it was important to keep the momentum going and continue to provide a platform which would give children a focus and something to work towards while schools were closed.  The organisers themselves have learned many new skills throughout this process!  Hopefully, life will have returned to normal next year, and we look forward to hearing many talented musicians from Lancashire Music Hub at our festival in 2022.