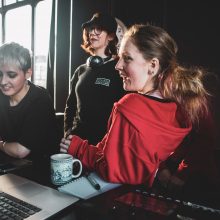 Empowering and inspiring young women to achieve their full potential, More Music is excited to be joining forces with Loose Articles, a four-piece, independent, female punk band from Manchester and artist Emma Colbert of Deco Publique for the 4th Girls Can Artist Bootcamp.
On Friday 10th and Saturday 11th February, young women aged 14 – 25 will have the opportunity to take part in a weekend packed full of free inspirational workshops, Q&As and live music. 
 From 4.30pm to 7pm on Friday 10th February participants will create their own statement piece of art at The Art of Protest Workshop with Emma Colbert from Deco Publique. This creative workshop at More Music will offer a great opportunity to express what is important to you while exploring ideas and beliefs. The workshop is free and all materials will be provided.
 The Girls Can Punk Rock Bootcamp will take place on Saturday 11th February, running from 10am to 5pm. Run by More Music's Girls Can team and Loose Articles, this is an opportunity for young women to develop the confidence and DIY spirit needed to pick up an instrument, form a band, write songs, play gigs and explore pathways into the industry. As part of the bootcamp, participants will have the chance to soundcheck with the band and also perform as the support act for Loose Articles in the evening, playing the song they create collaboratively throughout the day.
Loose Articles are an independent, female punk band from Manchester specialising in discordant, hypnotic repetition and radical politics. They are a punk quartet with plenty to say. Their music speaks to all those determined to get through the age of austerity with tongue in cheek, and two feet firmly on the dance floor. In an exciting end to the weekend, Loose Articles will perform a headline gig on Saturday 11th February. They will be supported by Lancaster based queer post-punk new wave wonder Varicose Veins and the Girls Can band. Doors open at 7pm and all are welcome to attend. Tickets for the gig cost £6/£5 concessions and can be purchased from moremusic.org.uk or on the door.
To find out more and/or to book your free place on the workshops please email rachel.parsons@moremusic.org.uk with information about your musical experience and why you would like to be part of this project.
There are some Clitheroe based events with Loose Articles – read more HERE
To find out more visit More Music's website at www.moremusic.org.uk or call 01524 831997, or visit HERE