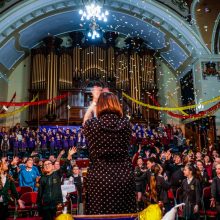 After a three-year break, glorious singing returned to Lancaster Town Hall last week, with over 1500 local school children coming together to perform five concerts at The Ashton Hall as part of the 2023 Lancaster and District Schools' Singing Festival.  The children aged between five and eleven from 37 primary schools in Lancaster, Morecambe and the surrounding districts, entertained their families and friends as well as local dignitaries including the Mayor of Lancaster, Councillor Joyce Pritchard with newly composed pieces, pops songs and songs from around the world.
In addition to the wonderful singing, the festival was able to showcase the talents of young local musicians: Ellie Knowles and Annie Hughes (vocalists); Ash Murphy and Logan Aitchinson (beatbox); Hannah Wickes & Clara Spence (saxophonists) and the Turning Point Theatre Art dancers.
The festival was bequeathed the use the Ashton Hall for one week a year to promote singing in schools over 70 years ago, and continues to be supported by Lancaster City Council.  The number of schools and children taking part in 2023 represented the largest festival to date.
The festival project has two focus areas:  Key Stage 1 led by Debbie Pilkington, supported by Emma Williams, Singing Lead for the Lancashire Music Hub, who also leads the Key Stage 2 concerts.
Debbie Pilkington, KS1 conductor said:
"We have really missed being able to hold our festival in the historic Ashton Hall and return with songs celebrating our 'Wonderful World' and 'We're All in this Together'. It has been a privilege to be back working with our local schools. To be greeted with excitement and enthusiasm, not just from the children but from the staff too, is testament to the boost to our well-being that singing together can bring."
Emma Williams, Singing Lead for the Lancashire Music Hub who conducts KS2 said:
"It is so exciting to be back with our singing schools in the Ashton Hall for the first time since 2019. The Singing Festival has a long, wonderful legacy of bringing our school community together in song and this year is no exception. Hearing all the young voices will be total joy!" 
Paul Bowden, Headteacher at Slyne-with-Hest St Luke's CE Primary School, and a member of the organising committee said:
'It is a joy to see the smiles on the children's faces as they have practised the songs to take part in this years Singing Festival. Having had to take a break from the festival during and after the pandemic, it is wonderful that we have returned and bigger and better than ever. The festival is a long-standing treasure in the school calendar.'
Sarah Harding, KS2 teacher, Overton-St-Helens
"It has been wonderful to see the confidence develop and shine through our children as they have learnt new songs! They are very much ready for and excited about performing to an audience in such a grand venue!"
Alex Thomas, Year 2 Class Teacher, Bowerham Primary and Nursery School
"The Year 2 children at Bowerham have absolutely loved practising the songs for the singing festival. They have really enjoyed exploring songs in different languages and cannot wait to perform with the band at the Ashton Hall."