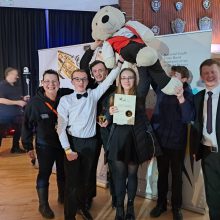 Well done to our very own Lancashire Youth Brass Band!
Please join us in giving a massive congratulations on a well deserved 2nd place at the National Youth Brass Band Championships, and a GOLD AWARD! 2nd in the whole of the UK Championship section is a huge achievement.
Not only do LYBB complete amazing feats but they do it in style! Competing with:
"A special test piece for a special day!! We won the North West Area playing it on our 1st wedding anniversary!!" – Helen Minshall
To learn more about the history behind the Minshall family and the National Youth Championships, find our article here. 
"Myself and all the tutor team are so proud of you all. When we chose the programme back in the Autumn term, we knew it would challenge you and take you out of your comfort zone, but you've totally risen to that challenge, and have exceeded all our expectations! I can't tell you how proud I am of you all!" – Helen Minshall
Brilliant – your cornet trio were amazing – we loved it!
Congratulations to you all!
Fantastic performance from such an incredibly young band too!!! Should be so very proud of yourselves!!! Great kids and equally great tutors x
Helen Minshall is magic!
Huge congratulations to all involved! Wonderful ensemble playing! What a memorable and exciting experience!!! Thank you.
For the most inclusive band I've ever known, well deserved indeed. So proud of you all, kids tutors parents and the amazing Helen Minshall. 
Excellent achievement! The pride of Lancashire! Well done all.
Find out more about Lancashire Youth Brass Band here.