Local young musicians got the chance to learn from top folk duo Twelfth Day in November as part of a masterclass, funded by Lancashire Music Hub.
Fiddler Catriona Price and harpist Esther Swift shared their skills and knowledge about folk music and discussed their careers to date as professional touring and recording artists. The participants learnt new ways to write and arrange music, as well as playing tips to improve their instrumental skills. Twelfth Day played a great gig at More Music later that evening, all participants had the opportunity to attend the gig which enabled them to see the the music pratice live on stage!
Master classes are proven to be a great way to engage and inspire young musicians at any stage in their music development. Lancashire Music Hub works with More Music to work on offering masterclasses for FE students in colleges and sixth forms.
Another workshop was held in November  with music students from Burnley College  which consisted of two singing masterclasses with Lancashire Music Hub Singing Leader Emma Williams.  The masterclasses focused on harmony singing, vocal health and understanding how to arrange vocals with a band.
In addition to her work with the hub in Lancashire schools, Emma leads LYVE (Lancashire Youth Vocal Ensemble) and gigs regularly in venues across the Northwest.
Emma said:
"It was great to work with such a diverse range of musicians at Burnley College. It was the first time many of them had met and they created some nice arrangements. Many are gigging regularly and I'm hoping they were able to take away some tips for their continued vocal health."
Karl Eden, Music, Dance and Performing Arts Programme Leader at Burnley College, added:
"The masterclass with Emma was invaluable for our music students – many of our vocalists are self taught and Emma helped them with the fundamentals of looking after their voice, singing and 'learning to walk before they can run."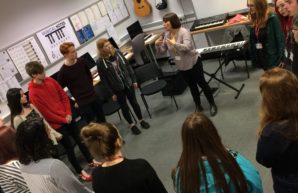 For more information on masterclasses with More Music visit the website or see our events page for the latest masterclass listings.