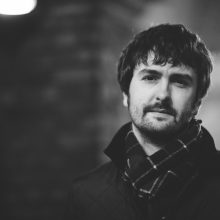 Beats and Pieces bandleader Ben Cottrell visited sixth form students from Runshaw College and Lancaster Royal Grammar School in January and February this year for two inspiring jazz masterclasses.
Funded by Lancashire Music Hub and organised by More Music, the masterclasses on 23 January and 6 February gave the students the opportunity to learn from one of the UK's most acclaimed jazz big band leaders.  They were able to create new music with Ben, discover his composition and improvisation methods, and put them into practice.
Composer and conductor Ben Cottrell is the band leader of Beats and Pieces Big Band, one of the UK's most acclaimed and exciting big bands.  First playing together as Beats & Pieces in 2008, today these fourteen musicians know each other inside out socially and musically, and this familiarity is part of what sets them aside from a lot of other big bands today. The music is an expression of the band's members and their varied musical backgrounds and activities, all brought together in Ben Cottrell's inspired writing. His compositions reflect the diversity of music that people of their generation have grown up surrounded by, and as such are influenced as much by Michael Jackson, Björk or Radiohead as they are Duke Ellington, Gil Evans or Loose Tubes.
Ben Cottrell said: "I was genuinely really impressed with the talent in both schools, some really promising and imaginative young musicians in both places."
Emma Lamb, Director of Music at Lancaster Royal Grammar School said: "Our students relished this opportunity to work with Ben to explore new creative pathways and compose under his innovative guidance."