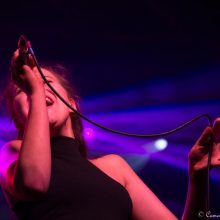 If you are a young vocalist aged 11 -18 come and join our exciting new Jazz Youth Vocal Ensemble – JYVE!  Linked to our two successful County Jazz Orchestras, JYVE is a fantastic opportunity to develop new skills, exploring a wide range of jazz and soul inspired music alongside like minded young singers and under the leadership of professional vocalist and tutor, Debbie Jones. Members of JYVE will also have the chance to sing with the jazz orchestras.
You will need to have some singing experience but the sessions are open to all and we invite you to come along to a rehearsal and give it a go.
Rehearsals are  at Archbishiop Temple School, St Vincents Rd, Fulwood, Preston PR2 8RA from 11am – 3.30pm on the following dates:
Saturday 11 May     
Saturday 8 June 
Saturday 22 June
Saturday 6 July
Please contact cath.sewell@lancashire.gov.uk if you would like any more details.