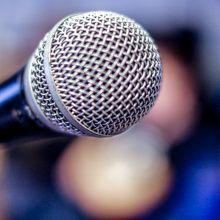 Following the success of their collaboration on Elton John's 'I'm Still Standing', Lancashire's young singers have come together again to tackle a new musical challenge.
6 vocal groups across the county have joined forces on a new arrangement of 'Don't Look Back in Anger' by Oasis; singing, beatboxing and reflecting on the challenges of making music online over the last 12 months.
"We had been working on a number of songs" said Emma Williams, Singing Leader for Lancashire Music Hub "and 'Don't Look Back in Anger' really struck a chord with everyone. It had the anthemic quality we were looking for, to bring all the County's young voices together"
The 6 groups; each rehearsed independently online and then came together in one, massed performance, helping them to feel part of their wider musical community. The video was then put together and edited by More Music's Ash Murphy and Leroy Lupton. Ash said "It was great to work on a joint project and hear all the voices from different choirs across Lancashire come together".
"Coming to choir in lockdown has heled me because I haven't been interacting with many other people" said Emily Frost from the LMS Primary Choir. Hugo Page, who is part of LYVE added "It's really helped me come out of my shell".
Renay Harper Year 7 at Lancaster Girls Grammar School said "Online choir has helped me to meet new people and find new songs which I wouldn't have found without it! It's been a break from schoolwork." She added "Singing after lockdown will be quite special because we used to take it for granted. It'll be so nice to hear other people's voices!"
The 6 groups involved are The Lancashire Youth Vocal Ensemble, The Jazz Youth Vocal Ensemble, Bay Youth Voices, Lancashire Music Service's Primary and Secondary Music Centre Choirs and Sing It Out, a singing group focussed on promoting positive mental health in young people.
For more information on any of the vocal groups mentioned go to;
Get involved – Lancashire Music Hub