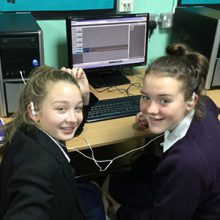 Huge congratulations to All Hallows Catholic High School for winning Charanga VIP Studio Session's national competition 'School of the Year' for their whole-year rap project.
VIP is funded in Lancashire schools by Lancashire Music Hub. It is an online secondary music education programme that helps teach popular music genres in the classroom such as Grime, House and Hip Hop, using cloud-based technology and a comprehensive set of online tutorials and teachers' resources.
The Lancashire school beat the competition with their whole-year group Rap project. Their winning Rap songs, written by the pupils at the school, are about everything from space, teddy bears, immigration, bullying, Preston North End Football Club and Brexit.
Listen to some of the winning raps chosen for style and lyrical content here:
Each year, Charanga's VIP Studio Sessions runs a competition for Track of the Year. This year it had extended this to include and celebrate the best VIP school in the country. All Hallows School has won a £500 music voucher as well as a free masterclass in their school with VIP's Max Wheeler. Well done to all involved!